Sep 1st
Pattinson & Cox: A Cougar Town Canoodle?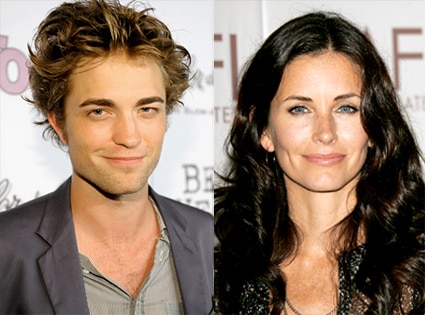 Can't you just see it now: Courteney Cox getting it on with Robert Pattinson!
It definitely would make for good TV on Cougar Town, Cox's upcoming ABC comedy in which she plays a 40-year-old single mom who has a thing for younger dudes.
"Why don't we get the Twilight guys," Cox's costar Busy Philipps told me today during a set visit by the Cheesecake Factory and Feeding America (more on that after the jump). "That would be awesome."
Cox is into the idea. "We'll have to do that," she said. "If the show is a success I'm sure it will be easy to do. But we'll have to see how it goes first."
Also on Cox's plate? Scream 4!…
As I was the first to tell you, Cox and hubby David Arquette have signed on for the fourth installment of the ghostface-killer movie franchise. Storyline is still under wraps, but Arquette hinted at a possible new addition to the Scream family. "Dewey and Gail may have a child," he said.
Arquette visited the Cougar Town and Scrubs sets today to help kick off the Cheesecake Factory's "Drive Out Hunger" campaign, a 30-city tour that hopes to collect 100,000 soup cans for Feeding America before Sept. 30
David is also producing a benefit concert for Feeding America on Sept. 29 in L.A., with performances by friends like Sheryl Crowe and Ben Harper. "It's the time to be dedicated to this," Arquette said. "People are hurting out there and people need help."
2 Responses to "Pattinson & Cox: A Cougar Town Canoodle?"
tressa Lewis
Sep 1st, 2009 6:50 pm
Courtney Cox should keep her socialist ideology to herself. Imagine her telling school children to "Obey President Obama". What a disgrace she is to our country. Obey? How dare she use those comments to vonerable children. She sold out and is now part of this huge propaganda machine of the Obama Administration. Doesn't she know that Castro, Mao, Stalin, Hitler and Chavez have all did this trying to indoctrinate the young and she is part of this? It is a total outrage! I am boycotting all her movies and TV shows. She has no idea how she is being used by this administration. If she really knew she would be frightened.
john eells
Sep 1st, 2009 3:06 am
Cortney Cox,I am so offended at your Barack propaganda to my child!! Raise your own,the country and world does not need you and Davids help.You are a rich elitest who has crossed the line.I have purchased,watched every film,episode that you starred in.That is over,you two smiling ,passing on this untested message(Marion Berry) to our kids ends my cash contribution to any of your projects.
Leave a Reply
Please note that all comments are held for moderation (ie:to make sure no spam or shrud comments are submited). Your comment will appear on this article after it's been approved by the admin so only hit "submit" once.